Basic Information
Conventional long form : Democratic Socialist Republic of Sri Lanka
Conventional short Name form : Sri Lanka
Former Name : Ceylon
Size:
Area – 65,610 sq km
Length – 445 km
Breadth – 225 km
Capital : Sri Jayewardenepura
Commercial Capital : Colombo
Government : Sri Lanka, is a free, independent and sovereign nation with a population of 21.6 million (2018 est). Legislative power is exercised by a Parliament, elected by universal franchise on proportional representation basis. A President, who is also
elected by the people, exercises executive power including defence. Sri Lanka enjoys a multi party system, and the people vote to elect a new government every six years.
Population : 21.6 million
Population Density : 296 people per sq km
Life Expectancy at Birth : 76.4 female, 71.7 male (2001 est)
Literacy Rate : 92.7% (2003 est)
Languages : Sinhala & Tamil is widely spoken throughout Sri Lanka.
Ethnic Mix : Sihalese, 74.9%; Tamil, 15.4%; Muslim 9.2%; Burgher (descendants of Dutch and Portuguese colonist) and others 0.5% (2012 est)
Religion : Buddhism 70.19%; Hinduism 12.61%; Christianity 7.45%; Islam 9.71%
Climate : Low lands – tropical, average 27°C Central Hills – cooler, with temperatures dropping to 14°C. The south-west monsoon brings rain to the western, southern and central regions from May to July., while the north-eastern monsoon occurs in the
north and east in December and January. Sri Lanka boasts of a good climate for holiday-makers throughout the year.
Annual per capital GDP : US $3600 (Approx)
Industries : Processing of rubber, tea, coconuts, and other agricultural commodities; clothing, cement, petroleum refining, textiles, tobacco.
Agriculture – Products : Rice, sugarcane, grains, pulses, oilseed, roots, spices, tea, rubber, coconuts; milk, eggs, hides, meat.
Currency : Sri Lanka follows decimal currency systilable in the denominations of Rs. 2,10,20,50,100,200, 500,1000,2000, and 5000 in Rupees (Rs.) and cents (Cts.) with 100 cents equal to a rupee.
Visa : Visit Sri Lanka Embassy Web site or Sri Lanka Immigration Web site: www.iimigration.gov.lk
Working Week : Sri Lanka works a five-day week, from Monday to Friday.
Business Hours : Government offices 8.35 a.m. – 4.15 p.m, Monday to Friday
Banks : 9.00 a.m. to 1.00 p.m. or 3.00 p.m. Monday to Saturday
Post Office : 8.30 a.m.- 5.00 p.m., Monday to Friday 8.30 a.m. – 1.00 p.m. on Saturday. The Central Mail Exchange, at D.R.Wijewardene Mawatha, Colombo 10, (Telephone :326203) is open 24-hours.
Location : An island off the south-eastern cost shores of India, 880 km north of the equator, in the Indian Ocean. It lies between 5° 55′ and 9° 55′ north of the equator and between the eastern longitudes 79° 42′ and 81° 52′.
Feature : Encompassed beautiful tropical beaches, verdant vegetation, ancient monuments and a thousand delights to please all tastes. The relief features of the island consist of a mountainous mass somewhat south of the centre, with height exceeding 2,500
metres, surrounded by broad plains. Palm fringed beaches surround the island and the sea temperature rarely falls below 27°C.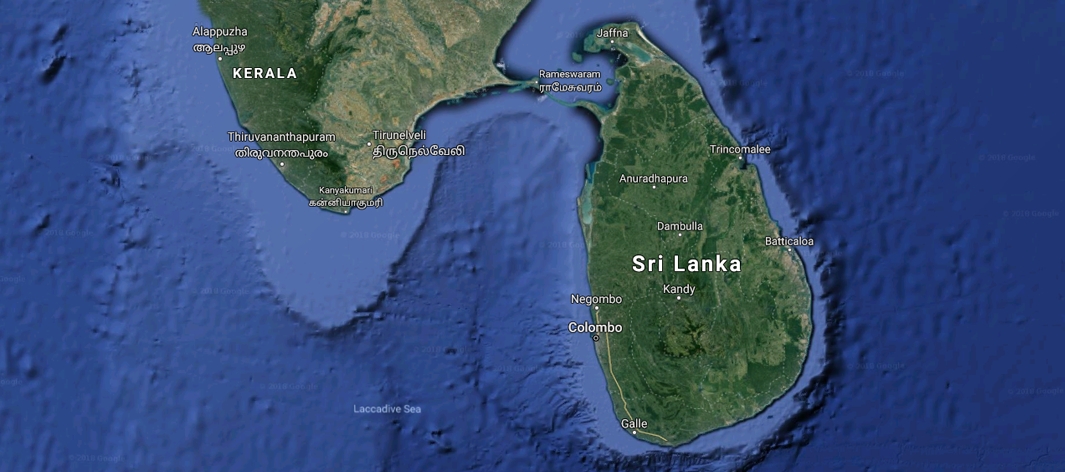 History
Recent excavations show that even during the Neolithic Age, there were food gatherers and rice cultivators in Sri Lanka. Very little is known of this period documented history began with the arrival of the Aryans from North India. The Aryans introduced the use of iron and an advanced form of agriculture and irrigation. They also introduced the art of government. Of the Aryan settlements, Anuradhapura grew into a powerful kingdom under the rule of king Pandukabhaya. According to traditional history he is accepted as the founder of Anuradhapura.
During the reign of King Devanampiya Tissa, a descendent of Pandukabhaya, Buddhism was introduced in 247 B.C. by Arahat Mahinda, the son of Emperor Asoka of India. This is the most important event in Sri Lankan history as it set the country on the road to cultural greatness. As a new civilization flourished Sri Lanka became rich and prosperous.
In the mid 2nd century B.C. a large part of north Sri Lanka came under the rule of an invader from South India. From the beginning of the Christian era and up to the end of the 4th century A.D. Sri Lanka was governed by an unbroken dynasty called Lambakarna, which paid great attention to the development of irrigation. A great king of this dynasty, Mahasen (3rd century A.D.) started the construction of large `tanks' or irrigation reservoirs. Another great `tank' builder was Dhatusena, who was put to death by his son Kasyapa who made Sigiriya a royal city with his fortress capital on the summit of the rock.
As a result of invasions from South India the kingdom of Anuradhapura fell by the end of the 10th century A.D. Vijayabahu 1 repulsed the invaders and established his capital at Polonnaruwa in the 11th century A.D. Other great kings of Polonnaruwa were Parakrama Bahu the Great and Nissanka Malla both of whom adorned the city with numerous buildings of architectural beauty.
Invasion was intermittent and the capital was moved constantly until the Portuguese arrived in 1505, when the chief city was established at Kotte, in the western lowlands. The Portuguese came to trade in spices but stayed to rule until 1656 in the coastal regions, as did the Dutch thereafter. Dutch rule lasted from 1656 to 1796, in which year they were displaced by the British. During this period the highland Kingdom, with its capital in Kandy, retained its independence despite repeated assaults by foreign powers who ruled the rest of the country. In 1815 the kingdom of Kandy was ceded to the British and thus they established their rule over the whole island. Modern communications, western medical services, education in English, as well as the plantation industry (first coffee then tea, rubber and coconut) developed during British rule. By a process of peaceful, constitutional evolution, Sri Lanka won back her independence in 1948 and is now a sovereign republic, with membership in the Commonwealth of Nations and the United Nations Organization.
Climate of Sri Lanka
In the lowlands the climate is typically tropical with an average temperature of 27°C in Colombo. In the higher elevations it can be quite cool with temperatures going down to 16°C at an altitude of nearly 2,000 metres. Bright, sunny warm days are the rule and are common even during the height of the monsoon – climatically Sri Lanka has no off season. The south west monsoon brings rain mainly from May to July to the western, southern and central regions of the island, while the north-east monsoon rains occur in the northern and eastern regions in December and January.
National Symbols of Sri Lanka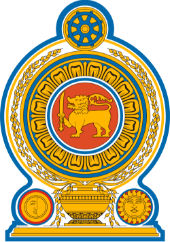 Sri Lanka National Anthem
After independence was granted to Sri Lanka in 1948, the need for a national anthem arose. As a result of a contest, Ananda Samarkone's contribution, written in Sinhalese, was chosen as the new anthem. The Tamil lyrics have the same meaning as the Sinhalese lyrics. It was first performed on the fourth anniversary of independence in early 1952.
Sri Lanka National Flag
The National Flag of Sri Lanka represents the country and her heritage as rallying device that integrates the minorities with the majority race.
Sri Lanka National Flag is an improvisation of the civil standard of the last king of Sri Lanka, Sri Wickrama Rajasingha.
The civil standard had a passant royal lion with a sword in it's right fore paw at the center, and a bo-leaf on each of the four corners on a plain border.
When Sri Lanka gained her independence from Great Britain on February 04, 1948, it was the lion flag of the last king of Sri Lanka was hoisted once again.
The first Prime Minister of independent Sri Lanka, D.S.Senanayake, appointed a committee to advice the government on the design of a new national flag. The design approved by the committee in February 1950 retained the symbol of the lion with the sword and the bo-leaves from the civil standard of the last king of Sri Lanka, with the inclusion of two vertical stripes green and orange in color.
The national flag was hoisted for the first time on March 3, 1950.
Sri Lanka National Tree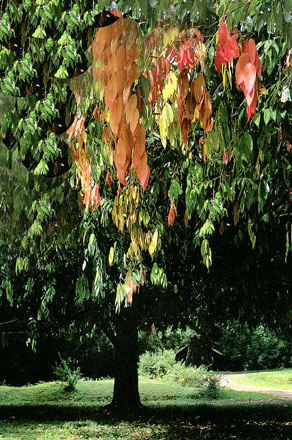 The Ironwood (Na Tree), botanically known as "Mesua Nagassarium" was declared the National Tree on 26th February 1986.
It was chosen as the National Tree for several reasons.
It is a tree which originated in Sri Lanka
Its utility
Historic and cultural importance
Exterior posture
Wide distribution
Colour and nature
Ability to draw and sketch it easily
This rain forest tree grows to about 30 m high and indigenous to the lower wet Zone of Sri Lanka. Remarkable Features of NA is beautiful bright Red Leaves and finally matured in to a deep green. Timber has a very hardness and durability and used to make bridges in the early times. Now it is not allowed to use for timber due to its religious value. The flower of NA is also used in herbal medicine and preparation of perfumes, cosmetics and soaps.
It is believed that the first visit of Buddha was to grove of a NA Tree at Miyanganaya and also the next Buddha (Mithriya) will attain enlightenment under a NA tree.
Sri Lanka National Flower

The "Nil Mahanel" flower, botanically known as "Nympheae Stellata" was declared the National Flower of Sri Lanka on 26th February 1986.
Sri Lanka National Bird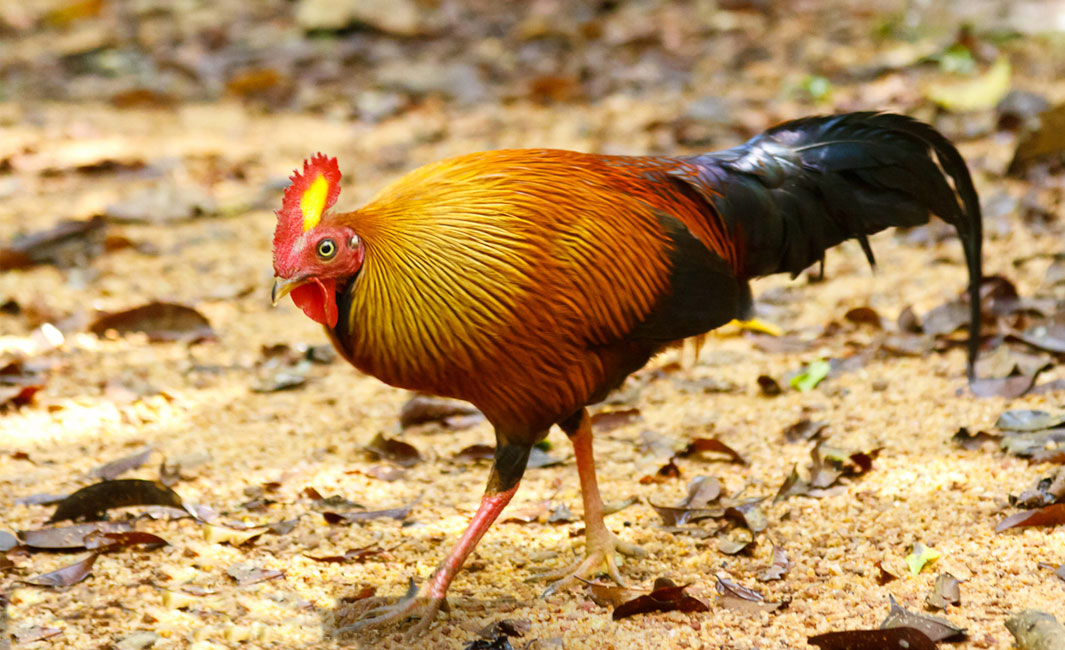 Sri Lanka Jungle Fowl – Very colorful ground bird, endemic to Sri Lanka is the national bird of Sri Lanka. Distributed commonly in Sri Lanka's jungle and dense scrub through out. Roosts high in trees at nights. Flies up to tree branches when threatened. Nests in hidden, scraped place on the ground or on a pile of vegetation just off the ground. Sinharaja is a very good site to watch Sri Lanka Jungle Fowl.