Sweden Sri Lanka Business Relations
Sri Lanka established diplomatic relations with Sweden on 18th November 1949. With the establishment of the Sri Lankan Diplomatic Mission in Stockholm, bilateral trade, investment, tourism and other relations expanded substantially. Sweden has always been a friendly country, and an active partner in Sri Lanka's economic development process. The Swedish International Development Agency (SIDA) has been at the forefront in this regard providing assistance for large infrastructure projects, and for the development of human capital in Sri Lanka. The Kotmale Dam built by Skanska in 1985 is an iconic project and donation from Sweden which generates 201 Megawatts of hydro power, and diverts a large volume of water to irrigate the farmlands of the dry zone of Sri Lanka.
Trade volume and value between Sri Lanka and Sweden has increased over the years. In 2018, Sri Lanka exported US$ 90 million worth of goods to Sweden and Sweden exported US$ 56 million worth of goods to Sri Lanka. Sri Lanka's main exports to Sweden are apparel, tea, rubber gloves and tyres, coconut oil and electrical transformers while main imports from Sweden are paper products, rubber compounds, medicaments and wooden articles.
Trade Statistics
| | | | | |
| --- | --- | --- | --- | --- |
| Year | Exports USD Mn | Imports USD Mn | Total Trade Turnover USD Mn | Balance of Trade USD Mn |
| 2008 | 60.35 | 105.88 | 166.23 | -45.53 |
| 2009 | 38.97 | 33.04 | 72.01 | 5.93 |
| 2010 | 58.33 | 49.57 | 107.90 | 8.76 |
| 2011 | 71.52 | 58.52 | 130.04 | 13.00 |
| 2012 | 61.53 | 76.99 | 138.52 | -15.46 |
| 2013 | 61.39 | 70.01 | 131.40 | -8.62 |
| 2014 | 71.05 | 54.21 | 125.26 | 16.84 |
| 2015 | 64.23 | 86.02 | 150.25 | -21.79 |
| 2016 | 69.31 | 64.73 | 134.04 | 4.58 |
| 2017 | 78.37 | 65.45 | 143.82 | 12.92 |
| 2018 | 90.26 | 56.06 | 146.32 | 34.02 |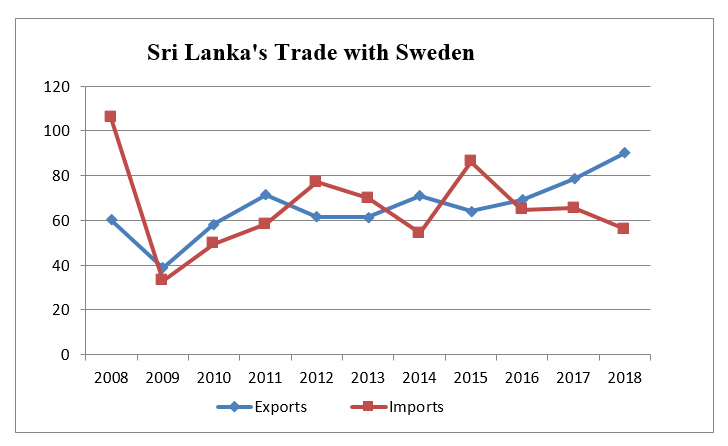 Sri Lanka has signed the following agreements with Sweden:
Agreement on Avoidance of Double Taxation
Agreement on Protection of Investments