Promotion of Sri Lanka Tourism in Denmark with LOT Polish Airlines
28 November 2019
The Embassy of Sri Lanka in Stockholm in partnership with LOT Polish Airlines organized a tourism promotional event on 14th November at the Asia House in Copenhagen, Denmark. Sri Lanka Tourism Promotion Bureau sponsored this event which was the first of a series of tourism promotional events planned for Denmark.
The purpose of the event was to brief Danish tour operators about the positive developments in Sri Lanka tourism industry, and the inaugural flight of the LOT Polish Airlines to Sri Lanka. Offering competitive airfares and minimum transit times, the LOT Polish Airlines operates direct flights between Europe and Sri Lanka during the Winter season.
The Event was well attended by travel agents, travel bloggers and writers from Denmark. In his remarks, Ambassador Ganegama Arachchi stated that Sri Lanka is a safe and attractive travel destination. He further explained how the Government improved the security situation, and created favorable conditions enabling Sri Lanka tourism industry to rapidly bounce back from temporary setback caused by Easter Sunday attacks. He invited the Danish travel trade to take advantage of the direct flights from Warsaw to Colombo for attracting more Danish travelers to Sri Lanka.
Senior Sales Specialist of LOT Polish Airlines for Denmark, Ms. Bente Thomsen made a presentation about the airline and its services to the clients. Commercial Secretary of the Embassy Yasoji Gunawardana made a presentation highlighting a wide range of authentic and diverse travel experiences available to visitors to Sri Lanka.
Three Sri Lankan DMCs participated at the event and had B2B meetings with Danish travel companies. The event concluded with a raffle draw in which the first prize was an air ticket and local hospitality for one week in Sri Lanka.
The Embassy of Sri Lanka
Sweden
19th November 2019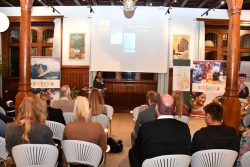 Recent Events