The Embassy in Sweden Promotes Sri Lanka Tourism with LOT Polish Airlines
29 October 2019
The Embassy of Sri Lanka in Stockholm in partnership with LOT Polish Airlines organizeda tourism promotional event on 22ndOctober at the Embassy.  The purpose of the event was to promote Sri Lanka tourism and to inform the Swedish travel industry about LOT Polish Airlines inaugurating direct flights to Sri Lanka from Warsaw for the Winter season. The LOT Polish Airlines offers competitive airfares and convenient travel arrangements having minimum transit time in Warsaw.
The Event was well attended by travel agents, travel bloggers and writers. In his opening remarks, Ambassador GanegamaArachchi stated that Scandinavian region especially Sweden remains an important market segment of the Sri Lanka tourism industry.  He further said that Sri Lanka is regaining its status as a popular travel destination among Swedish travellers and the Scandinavian region.
Ms. AgnieszkaDymkowska, Sales Manager of LOT Polish Airlines made a presentation about the airline while Mr.HarshaVithanaarachchi, Minister of the Embassy made a presentation about Sri Lanka as a tourist destination capable of offering diverse experiences.  At the event, the newly developed Sri Lanka tourism mobile application 'Ceylon Traveller' by Xiteb® was also introduced to the Swedish travel market.
Mr. Leif Ohlson, Secretary General of the Sweden Sri Lanka Business Council explained why the Swedish travel trade should give more attention to Sri Lanka as a unique travel destination for Swedish travelers.
The event concluded with a raffle draw in which the first prize was an air ticket and local hospitality for one week in Sri Lanka.  This was followed by a dinner reception.
The Embassy of Sri Lanka
Sweden
28th October 2019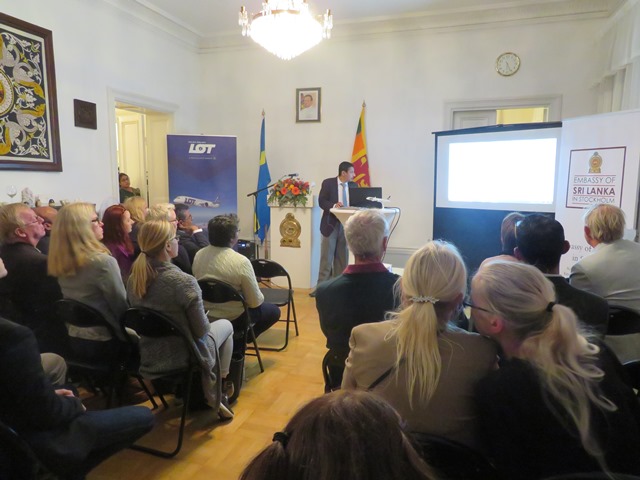 Recent Events