Sri Lanka Embassy Launches New Interactive Website
21 June 2019
On the 21st June, the Sri Lanka Embassy in Sweden launched a new website which is more user-friendly and interactive in order to provide Consular services more effectively and to disseminate information related to trade, investment and tourism.
The new website has several new features. This website has been designed to be mobile device friendly where any detail can be reached with a maximum of three access levels. It enables the public to make online appointments for receiving Consular services. Scanning the QR code will enable visitors to find the Embassy location through the Google Navigator. A specific link has been created to assist Sri Lankans in case of emergency situations they face in Sweden, Denmark, Estonia, Latvia or Lithuania. Through the website, the Sri Lankan Diaspora living in these countries can register their details with the Embassy database.
At the inauguration of the website, while thanking Mr.Harsha Vithanaarachchi, Minister of the Embassy for his valuable contribution to successfully develop the website, Ambassador Ganegama Arachchi stressed the importance of using digital means to promote the image of Sri Lanka overseas and of serving the Consular needs of the Sri Lankan Diaspora and foreign travelers to Sri Lanka effectively.
The website can be accessed through the web link www.stockholm.embassy.gov.lk. This was designed by AcmeSoft (pvt) Ltd. using the latest web developing applications.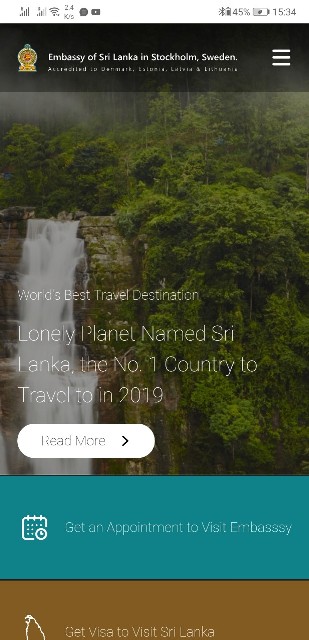 Recent Events