'An Evening with Swedish Friends of Sri Lanka', organized by the Embassy of Sri Lanka in Stockholm
9 September 2019
The Embassy of Sri Lanka organized 'An Evening with Swedish Friends of Sri Lanka' on 29 th of
August. The event was attended by an enthusiastic group of Swedes who are familiar with Sri
Lanka. Some of them are professionals who worked in early 1980's in Swedish-funded
development projects including construction of the Kotmale Dam while the others are business
owners, travel agents and consultants.
The purpose of the friendship group is to renew and strengthen the ties they had with Sri Lanka
and to develop a network for promoting business interests including ICT, cleantech and tourism.
The event was inaugurated with the address by the Ambassador Sudantha Ganegama Arachchi,
expressing his gratitude to the participants for being partners with the Embassy initiative to form
a Swedish friendship group. Ambassador Ganegama Arachchi requested the participants to
spread the word about their deep attachment to Sri Lanka and to encourage their friends to travel
to Sri Lanka. He also described the vast potential in Sri Lanka for Swedish investors, and
requested the participants to consider Sri Lanka not only as a travel destination but also as an
emerging business hub in the Indian Ocean. Ambassador Ganegama Arachchi recalled the
generous contributions from Sweden to assist the victims of Easter Sunday attacks and thanked
the donors who were present at the event.
During his address, Mr.Leif Ohlson, Secretary General of the Sweden Sri Lanka Business
Council further stressed the importance of deepening engagements with Sri Lanka through
business networking.
The Embassy intends to have regular interactions with the group via emails and social media
platforms to promote Sri Lanka interests in Sweden.
The event concluded with a raffle draw and a dinner reception.
Embassy of Sri Lanka
Stockholm
30.08.2019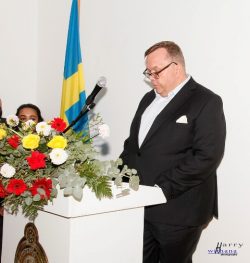 Photo Courtesy : Mr Harry Withana
Recent Events